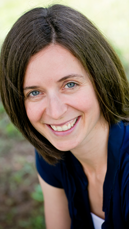 Dr.Erin O'Farrell, B.Sc.H., N.D.   –  Naturopathic Doctor
Erin received her Doctor of Naturopathic Medicine from the Canadian College of Naturopathic Medicine in 2002, following her Bachelor of Science from Queens University in Kingston. Continuing education has included homeopathic studies with Lou Klein and Rajan Sankaran, Pregnancy and Acupuncture and Bowen Therapy.
Her general family practice encourages wellness for the entire family using a combination of Nutrition and Lifestyle counseling, Constitutional Homeopathy, Traditional Chinese Medicine, Herbal Medicine and Bowen Therapy.
She has a special interest in all areas of Women's Health. She has worked extensively with a variety of concerns, including gastrointestinal complaints (IBS, chronic constipation, diarrhea, IBD), women's health (menstruation, menopause, fertility, pregnancy), skin conditions, learning difficulties, coughs and colds, asthma, fatigue, insomnia, anxiety and chronic pain.
Naturopathic medicine is a journey. Of discovery, support and wellness. Naturopathic medicine seeks to determine the root cause of a departure from optimal health. And utilizes healing methods which work with the body's innate ability to heal, and substances which are found in nature.
Wonderful things happen when we gain clarity on the interplay between the many factors – including lifestyle, diet, mental/emotional, genetic and environment – which affect our overall health and well being.
It is my mission to help you gain this clarity through thorough discussion of your health concerns and goals, by examining dietary and lifestyle factors, by uncovering possible food sensitivities and nutrient deficiencies, by performing lab testing as necessary, by looking together at the important way in which our mind impacts our body and vice versa, and by supporting mental/emotional health, stressors and life situation.
Erin stays busy and happy in her spare time with dance, yoga, hiking, reading, cross-country skiing and her wonderful son.
I hope that you will join me on this journey,
Sincerely,
Dr. Erin O'Farrell, N.D.